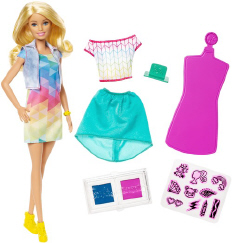 Barbie® Crayola® Color Stamp Fashion
Product#: FRP05
Released: 2018
Discontinued:
Ages: 5 years and up
With Barbie® doll and the BARBIE® CRAYOLA® Color Stamp Fashions sets, young designers can express their creativity and stamp out some cool custom Barbie® looks! This fashion design toy has everything needed to create trendy, colorful outfits for Barbie® doll over and over again -- in just a few simple steps. Select one of four washable doll fashions and place on the dress form. Next, select one of the 10 stamps -- like a rainbow, CRAYOLA® crayon, diamond, hearts, Barbie® silhouette and more -- and place on the stamp tool; then add ink from one of two different color pads and stamp onto the fashion. Stamp once or multiple times, use one color or both, design with one stamp or all of them -- you decide because you're the designer! Dress Barbie® doll in the custom clothing you've created and play out a story -- she has a pair of shoes and bangle to accessorize for a complete look -- then wash the Barbie® fashions with soap and water and start again with a new design. Aspiring designers can explore so many looks -- they'll love being able to express their style and ideas in endless ways! Includes Barbie® doll wearing fashions, shoes and bangle, two additional washable fashions, a dress form, 10 stamps, stamp tool and stamp pad with two ink colors. Doll cannot stand alone. Colors and decorations may vary.

Features:

Young designers can express their creativity making unique clothes for Barbie® doll with the BARBIE® CRAYOLA® Color Stamp Fashions sets.

This Barbie® playset includes 4 washable fashions and 10 unique stamps, like a star, teddy bear, lightning bolt, Crayola® crayon and more. Select a doll fashion and place on the dress form, then choose the stamps for your design.

Place a selected stamp into the stamp tool, add ink using the dual-color stamp pad -- purple and blue -- and apply stamp to the fashion to design.

Stamp once or a lot, use 1 color or both, try 1 stamp or all 10 -- with washable Barbie® doll clothes, aspiring designers can try out all of their ideas and design all day!

Barbie® doll is ready to tell a cool color story with accessories that include a brightly colored pair of kicks and a matching bangle.

Encourage young stylists to start their design training and explore personal expression with the perfect Barbie® gift.
PurchaseParts
ReplacementPartsNotAvailable