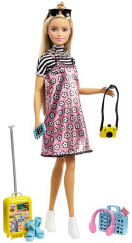 Barbie® Pink Passport™ Doll
Product#: FNY29
Released: 2018
Discontinued:
Ages: 3 years and up
Take Barbie® doll anywhere because her suitcase is packed, her pink passport is current and she's ready to go! Young travel lovers can take their dreams around the world with this travel set. Barbie® doll has a "rolling" carry-on -- it's decorated with stickers and really opens to pack in the fun! She's also equipped with a camera, headphones and smartphone. Her outfit is travel flexible: a black and white striped top under a shimmery pink dress with cute floral print. Go from plane to party with a switch of her shoes -- she comes with white booties and blue heels. Sunglasses and a silvery necklace add glam when she needs it. And a cutout bag is stylish and can hold her passport! Where to next? Let young minds take off and explore the whole world because you can be anything with Barbie®! Includes Barbie® Pink Passport™ doll wearing fashions and accessories (including necklace and sunglasses), suitcase, a second pair of shoes, a purse and themed accessories that include a pink passport. Doll cannot stand alone. Colors and decorations may vary.

With her included pink passport, Barbie® doll can go anywhere because her suitcase is packed -- it really opens and closes -- and she's ready to go!

Take imagination around the world with accessories that include a suitcase (sticker-decorated), camera (with strap), headphones (pink), smartphone (of course) and a trendy cutout purse (that can really fit smaller items!).

Barbie® doll wears a cool look that pairs a black and white high-neck top under a pink dress decorated with black and white floral print. White booties travel in style.

Dress up her versatile travel outfit with the included pair of blue heels, silvery chain necklace and cool pair of glasses.

Collect other Barbie® dolls and accessories to play out experiences around the world because you can be anything with Barbie®!
PurchaseParts
ReplacementPartsNotAvailable