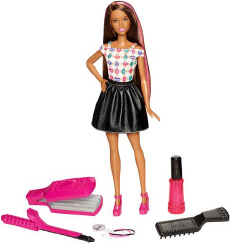 Barbie® D.I.Y. Crimps & Curls Doll
Product#: DWK50
Released: 2017
Discontinued:
Ages: 5 years and up
Curl, crimp and color gorgeous hairstyles for Barbie® doll! Color-change hair and a set of realistic tools allow young hairstylists to create unique looks for Barbie® doll.

A crimper, curler and hairbrush all work without heat. Simply take a small section of the doll's hair and spray warm water on it using the spray bottle. Using either the crimper (pressing down) or the curler (wrapping doll's hair around), hold the hair for a few seconds and release.

Barbie® doll's hair will not only be crimped or curled, but it will also show pops of color.

Choose from a doll with purple hair accents or pink. Three hair ties allow even more styling for creative expression and fun. To create a new look, take the hair down, wet and brush -- then start again.

Barbie® doll is ready for any look in a trendy dress with colorful print, shimmery skirt and fun shoes. Doll cannot stand alone. Colors and decorations may vary.
PurchaseParts
ReplacementPartsNotAvailable