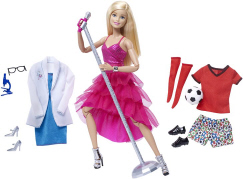 Barbie® Career Doll & Fashions
Product#: DMP27
Released: 2016
Discontinued:
Ages: 3 years and up
Explore three different careers with this Made to Move ™ Barbie® doll, her different professional outfits and themed accessories -- because you can be anything with Barbie®! Steal the show as a pop star, score big as a soccer player and experiment with storytelling as a scientist. With 22 "joints" -- in the neck, upper arms, elbows, wrists, torso, hips, upper legs, knees AND ankles -- Barbie® doll is Made to Move in all sorts of ways with lots of flexibility and an incredible range of movement! Guided by you, she can mimic realistic action -- like graceful dance steps, amazing soccer moves and professional breakthrough moments -- like never before for greater storytelling and creative expression. Explore all sorts of career aspirations with this set's fashions that are professional, practical and inspirational! Barbie® doll comes dressed as a pop star in an amazing pink performance gown with dramatic ruffles and show-stopping shimmer. Silvery shoes and a silvery bangle shine, while a microphone and microphone stand help "set the stage" for complete storytelling. Change Barbie® doll's outfit to change her career and the possibilities. She'll be ready to perform some fancy footwork on the soccer field wearing a uniform with colorful shorts, red t-shirt, red soccer socks and black cleats; a soccer ball helps score one for fun! Or play out scientific aspirations and discover more fun with the scientist look: a cool blue dress, white lab coat, white shoes and trendy black eyeglasses are perfect for research. And a microscope helps reveal even more opportunities for play. Go from the stage to the field to the lab with ease! Try on different careers with a simple fashion change because with Barbie®, you can be anything! Set includes Barbie® doll wearing pop star fashion and accessories, a microphone stand and a microphone; a soccer player outfit with soccer shirt, shorts, soccer socks, cleats and soccer ball; and a scientist outfit with dress, lab coat, shoes, eyeglasses and microscope. Doll cannot stand alone. Fashions fit most Barbie dolls. Colors and decorations may vary.

Explore different careers with Barbie® doll!

You can try on three different professions with looks for Barbie® doll that include a pop star, soccer player and scientist.

Made to Move™ flexibility means Barbie® doll has 22 joints that create greater range for realistic movement and creative storytelling!

As a pop star, Barbie® doll rocks a pink performance gown with ruffles and shimmer, silvery shoes and a silvery bangle; a microphone and microphone stand add show-stopping fun.

As a soccer player, Barbie® doll scores with colorful shorts, a red t-shirt, red soccer socks, black cleats and a classic soccer ball.

As a scientist, Barbie® doll invents style in a cool blue dress, white lab coat, white shoes and trendy black eyeglasses; a microscope is perfect for discovering fun!

Change your career and story with a change of outfit!
PurchaseParts
ReplacementPartsNotAvailable