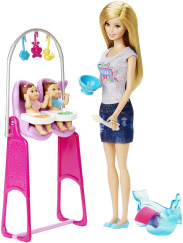 Barbie® Twin Babysitter
Product#: CKJ22
Released: 2015
Discontinued:
Ages: 3 years and up
Explore new careers in depth with the Barbie® Careers play sets. From medicine to teaching, Barbie® makes anything possible!

The Barbie® Careers Twin Babysitter set is double the fun with two little tots to care for.

Place the adorable twin babies into the special high chair built for two and decorated with colorful animal shapes hanging from the top, just like baby gear in real life!

With the special spoon that fits on her hand, Barbie® doll can feed the twins, revealing a "mess" on each of their faces as the cold water on the spoon sponge activates color-change transformation. An adorable blue bowl holds the water for feeding fun.

When the meal is done, fill the baby bathtub with warm water and use the washcloth to "clean" the babies up; then place them back in the double high chair to rock them to sleep.

Barbie® is ready to start all over when they wake up dressed in a denim skirt, printed tee and blue flats perfect for running around as she cares for the two adorable twins.

Includes Barbie® doll wearing career fashion, two babies, double high chair/rocker, bathtub, washcloth, bowl and spoon. Dolls cannot stand alone. Colors and decorations may vary.
PurchaseParts
ReplacementPartsNotAvailable