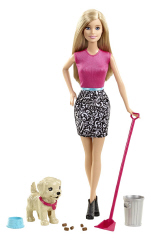 Barbie® Potty Trainin' Pup!
Product#: CFN43
Released: 2015
Discontinued:
Ages: 3 years and up
Barbie® doll has "puppy love" for her adorable pet puppy. With this fun set, girls can help Barbie® doll feed and care for her sweet dog -- cleaning up after her because this adorable animal actually poops! The set includes both Barbie® doll and her sweet pet puppy. Fill the doggie food dish with treats and help the little dog eat by opening its mouth and placing a piece of food inside. When it's time to go, press her tail and the poop falls out. Barbie® doll can use the pooper-scooper to clean it up and put it in the silvery trash bin that doubles as storage for the "food" -- so easy! Barbie® doll is ready to take her cute puppy out any time dressed in a pink top and black print skirt accessorized with a blue belt and black booties. Girls will love playing out pet care with this pretty doll and her adorable puppy. Includes Barbie® doll wearing fashion and accessories, pet puppy with eating/pooping feature, doggie food dish, silvery trash bin, pink pooper scooper and five food/poop pieces. Colors and decorations may vary. Doll cannot stand alone.
PurchaseParts
ReplacementPartsNotAvailable