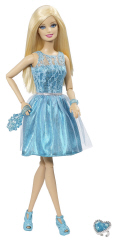 Barbie December Birthstone Doll
Product#: CDK20
Released: 2014
Discontinued:
Ages: 3 years and up
This birthday-inspired Barbie® doll wears a dress inspired by birthstone gems. An included girl-sized ring with a matching "birthstone" makes it perfect for gift giving or gift receiving! Barbie® doll shines in a gorgeously glam fashion with wish-fulfilling accessories. The birthstone-inspired ring sized for a girl makes the perfect princess party bling. Which month are you? Includes doll and child-sized ring. Doll cannot stand alone.
Birthday-inspired Barbie® doll is the perfect gift for giving or receiving.
Doll wears a gorgeous and glam dress decorated in the month's jewel tones.
Includes a matching girl-sized "birthstone" ring!
Makes a wonderful keepsake.
PurchaseParts
ReplacementPartsNotAvailable