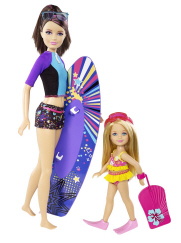 Barbie Surf Skipper® and Chelsea® 2 Pack
Product#: CBR17
Released: 2014
Discontinued:
Ages: 3 years and up
Surf's up, and Barbie® doll and her sisters are ready to catch some waves! This two pack brings Skipper® and Chelsea® dolls together along with sleek boards for a fun day at the beach. Simply clip Skipper doll's feet in and out of her purple surfboard with its graphic print. Chelsea® doll can put on her fins and ride the tropical flower boogie board that attaches to her wrist by its leash. The girls match their boards with their fashions: Skipper® doll shorts match her board, while Chelsea® doll makes waves in a pink and yellow tropic print. Matching sunglasses for Skipper® doll and goggles for Chelsea® doll are cool accessories for a day of fun in the sun! To expand the storytelling fun, watch The Amaze Chase™ webisode of Barbie™ Life in the Dreamhouse!
• This pack offers two dolls in one for a fun Barbie® family vacation!
• Skipper® doll has a surfboard and Chelsea® doll has a boogie board and fins to hit the waves.
• Clip Skipper doll's feet in and out of her brilliantly colored board.
• The sisters wear stylish two-piece swim outfits with matching sunglasses or goggles.
• Get ready to hang ten!
PurchaseParts
ReplacementPartsNotAvailable