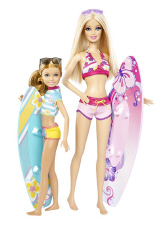 Barbie and Stacie Surfing Pack
Product#: CBR15
Released: 2014
Discontinued:
Ages: 3 years and up
Surf's up, and Barbie® doll and her sisters are ready to catch some waves! This two pack brings Barbie® and Stacie® dolls together along with sleek surfboards for a day of fun at the beach. Simply clip dolls' feet in and out. Both surfboards are sporty with tropical designs in brilliant colors. The girls match their boards with tropical prints in their fashions: Barbie® doll wears lots of pink, while Stacie® doll makes waves in blue and yellow. Matching sunglasses are cool accessories for a day of fun in the sun! To expand the storytelling fun, watch The Amaze Chase™ webisode of Barbie™ Life in the Dreamhouse!
• This pack offers two dolls in one for a fun Barbie® family vacation!
• Barbie® doll and Stacie® doll each has her own surfboard and is ready to catch some waves.
• Clip dolls' feet in and out of the brilliantly colored boards.
• The sisters wear stylish two-piece swim outfits with matching sunglasses.
• Get ready to hang ten!
PurchaseParts
ReplacementPartsNotAvailable