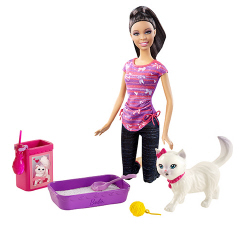 Barbie® Potty Training Blissa!™ (AA)
Product#: BHY33
Released: 2014
Discontinued:
Ages: 3 years and up
With the Barbie® Potty Training Blissa!™ set, girls can help Barbie® doll feed her pet kitty, Blissa™. Barbie® doll also cleans up after her because this adorable animal actually pees and poops!

The Kitty set comes with Barbie® doll and her adorable white kitten, Blissa™; a water bottle Barbie® doll can use to help Blissa™ cat drink; a yellow cat toy to keep them both entertained; a litter box and scooper to clean up the kitten's mess; and a little trashcan to toss it in.

It's fun to take care of pets, and Barbie® takes this kind of fun very seriously.
PurchaseParts
ReplacementPartsNotAvailable