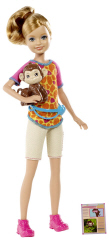 Barbie Destination Stacie Doll
Product#: BGV58
Released: 2014
Discontinued: 2014
Ages: 3 years and up
It's time to get wild! Barbie® doll and her sisters are out on a safari and have made a jungle-ful of baby animal friends!

Stacie® doll holds a special bond with the adorably cute monkey. But dressed in an adventuresome animal look of her own, she's to get as much attention on safari as the 'swinging' attractions!

She wears a multi-colored animal print top with turquoise trim and turquoise belt complemented with khaki shorts sporting pink trim. Tall purple safari boots allow her to explore in any terrain.

Stacie® doll and her monkey friend also come with a play animal fact card and map.

Girls will love exploring the jungle with their favorite sister! Dolls cannot stand alone. Ages 3 and older.
PurchaseParts
ReplacementPartsNotAvailable