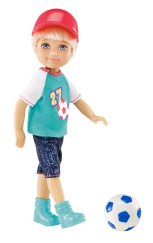 Barbie® Sisters Chelsea® Darrin® Doll
Product#: BDG45
Released: 2014
Discontinued: 2015
Ages: 3 years and up
It's going to be a FAB summer! Chelsea® doll and her friends love to visit her big sister Barbie® in her gorgeous Dream House® (sold separately) - but their favorite place to play isn't the glam living room or the luxe elevator or even the rooftop deck, but the big backyard!

With the right toys, these friends can create their own playground of simple outdoor pleasures. Darrin® doll is a soccer lover, and he's geared up to play with a soccer ball and uniform.

His outfit is all about sports, from his cap down to his high-top sneakers. His orange cap matches the soccer ball design and trim on his shirt for a bit of field style!

Doll cannot stand alone.
PurchaseParts
ReplacementPartsNotAvailable