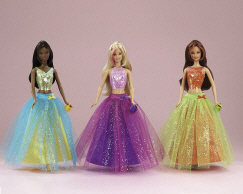 Movie Star Trend Glamour Christie
Product#: 56977
Released: 2003
Discontinued:
Ages: For ages over 3 years
Secret Style Barbie® Doll & Friends
Secret Style Barbie® doll and friends have the most relevant fashions that girls are wearing today. Their cool, trendy fashions can transform! There is a whole new way to change the fashion look by pulling a string to make the skirt long, short or anything in between. The jacket can change into a vest or shrug. Crochet hat transforms into a bag. There's even a matching crochet hat for the girl to wear too! Window box. Ages 3 and over.
PurchaseParts
ReplacementPartsNotAvailable