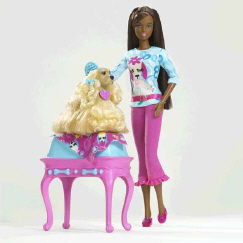 Stylin' Pup Barbie® Doll (African American)
Product#: 56685
Released: 2003
Discontinued:
Ages: 3 and up
Now girls can help Barbie® doll get ready for the dog show by washing, grooming and styling her playful new pup! Barbie® doll has everything she needs to take care of her adorable new puppy.

Girls will love helping Barbie® give the puppy a bath!

Barbie can hold the nozzle which has a bellows mechanism, so it really sprays water.

When Barbie washes her pup, the pup's hair changes from brown to blonde in warm water.

By pulling the dog collar, girls can make the puppy spin around to dry herself off.

When bath time's over, the tub flips over to become a grooming platform, so Barbie can brush her pup's hair and add pretty hair clips.

With the addition of the archway, the platform becomes a podium for the first place winner. Barbie looks terrific in a trendy dog-print shirt and capris.

Comes with spray hose and nozzle, towel, six hair clips, ribbon, leash plus plastic play pieces - a pretend blow dryer, perfume bottle, brush, shampoo bottle, trophy and dog treats.
PurchaseParts
ReplacementPartsNotAvailable